Safe Storage of Lithium-Ion Batteries
In a fire, every second counts. Throughout North America, steel cabinets are traditionally considered as an acceptable protective storage device for flammable products. Such cabinets protect its contents, such as lithium-ion batteries, for a maximum period of 10 minutes in the event of a fire. Does such a device provide true safety? In the case of an event, can people be evacuated accordingly, and can first responders contain the risk on hand within that small period of time? In addition, is the facility properly insured for such an incident?
Only a cabinet that can offer 90 minutes of guaranteed protection is the proper storage solution that will provide piece of mind. Increasing the evacuation period and allowing the authorities the proper amount of time to intervene will only save lives, protect capital investments, and limit any potential legal liability.
True safety is only possible with the right solution… An Asecos safety cabinet for lithium-ion battery storage.
Contact us to learn more!
ION-LINE Safety Storage Cabinets
Asecos safety storage cabinets are specifically designed to house lithium-ion batteries by providing a minimum of 90-minute protection against any fire or explosion, either external to or internal to the cabinet. The ION-LINE cabinets are available in two sizes: 120 cm or 60 cm wide while offering two distinct models based on different user requirements.
ION-LINE PASSIVE  For safe storage of Lithium-Ion batteries with 90-minute fire protection including visual LED lights and auditive alarms triggered via internal cabinet temperature monitoring.
ION-LINE ACTIVE   In addition, this model includes internal charging stations per shelf, a smoke detection system, a fire suppression unit, and BMS communication.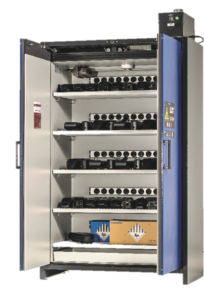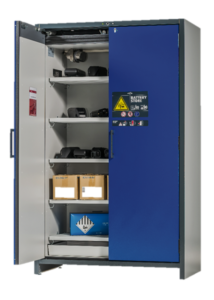 Safe & convenient self-closing door mechanism
An integral self-closing device closes the door if left open in any position.
Key lock with visual indicator: green/red.
Perforated storage shelves
Multiple powder coated perforated shelves offering high storage capacity and ensures optimal air flow throughout the cabinet.
Bottom collecting sump
Designed to capture any leakage which may occur from burning batteries.
Transport base
The integrated transport base enables one to remove the cabinet away easily and quickly in the event of a fire or an explosion.
Certifications
Built according to the European standard EN 14470-1 and EN 1363-1 and recognized under TRGS 510 as a hazardous substance storage device, thus compliant with VdS.
Lithium-ion batteries - not as safe as they seem!
The dangers that can arise when handling lithium-ion batteries are often underestimated. Even the smallest damage can cause a fire. In this video, we use an everyday example from a bicycle shop to illustrate how quickly a fire can arise from unattended charging of lithium-ion batteries. This shows how important it is to know how to store lithium-ion batteries safely.
Over the years our expertise, network and product selection have grown immensely, but our service has stayed responsive, providing our customers with the one-on-one attention. Whether standard or custom, Preston Phipps will provide the unbeatable selection you need with the attention you deserve.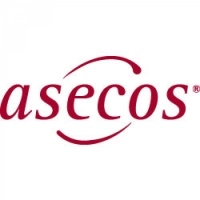 Superior solution for the safe storage of lithium-ion batteries and devices containing them.