Preston Phipps is the Ultimate Source for Steam and Industrial Products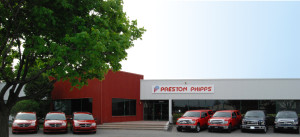 Headquartered in Montreal, Quebec, the company markets, distributes and services a broad range of industrial steam, valve, HVAC and water treatment products and solutions. Preston Phipps partners only with best-of-breed, industry-leading manufacturers, especially proud of our long term partnership with the Armstrong Machine Works company, founded in 1900.
These high-quality products fall within several major categories: Steam Specialties, Valves & Piping Accessories, Heating & Ventilation Systems, Hot Water Solutions, Laboratory Ventilation Systems,  and Flow Measurement & Control Solutions. Over the years, Preston Phipps has grown to serve the needs of a broad customer base across numerous industry segments including Power & Steam, Life Sciences, BioPharm, Petrochemical, Food & Beverage, Pulp & Paper, Mining & Smelting, Water Treatment,  Institutional, Government, Higher Education and Hospitality . Preston Phipps' engineering and sales staff possesses extensive knowledge and expertise of the industrial systems and applications used by these industries. As such our value proposition relies on our ability to understand and exceed the expectations of our valued customers, providing flexible processes for delivering high quality products and services.
Our 1,000 years of accumulated experience has led us to create an Engineering division specialized in steam optimization, steam tracing, and industrial skid developments. This division helps our clients design, procure and manage their on-site needs as well as new equipment requirements. We have also created our own CSA B51 certified production facility that can build such custom skids for these clients, ensuring that all local Canadian requirements and regulations are respected. And through our subsidiary Armserv, we can help install the required equipment, provide 24 hour service and maintenance contracts, as well as a full suite of energy auditing and assessment services for companies seeking to optimize the performance and efficiency of their installed systems.
Through its Armserv subsidiary, Preston Phipps provides 24/7 maintenance and servicing services as well as a full range of energy monitoring services, performance and optimized efficiency of installed systems.
Representing the products required ensures our customers get the best price, providing the design requirements ensures equipment is fit for duty, assembling piping and components for space saving and flexibility, and after-market servicing is ensuring our customers enjoy one-stop full single source provider at the best price, backed by over 80 years of Canadian pride.