D.S. (Dave) Preston, F.G. (Fred) Phipps and G.T. (George) Terry formed Preston Phipps Inc. in Montreal in 1933 during the period of the Great Depression. The first place of business was a 2nd floor walk-up at 955 St. James Street in Old Montreal. The total office and stockroom space was approximately 250 square feet.
For the first five years, all business was handled by the three original founders. Dave Preston focused on outside sales, Fred Phipps was the steam specialist and George Terry handled all the necessary office duties of accounting, answering the phone, shipping and receiving.
The Roots of Expansion & Growth
By 1938, the business was doing so well that additional resources were required and a stenographer/typist was hired. In 1940, a technician/serviceman was added to the team.
With this increase in personnel and business, larger premises would also be needed. The company soon moved into a new 850 square foot location on the 6th floor at 637 Craig Street.
From 1942 to 1948, business increased to such an extent that another typist, inside sales clerk and shipper/receiver were added, thus bringing the total number of employees to eight.
In 1949 a draftsman, stenographer and part-time engineering student, Don MacCandlish was hired.
With business continuously on the rise, largely spurred by the post World War II construction boom, Preston Phipps required additional expansion yet again. New sales representatives were appointed in the Maritime Provinces and Quebec City. By the early 1950s, the company began to look for more office and warehouse space.
Land was purchased and a two-story loft building was erected at 940 Ogilvy Street in Park Extension with occupancy in 1952. Preston Phipps leased out the 2nd floor while maintaining the ground floor for its own use; this amounted to approximately 3,600 square feet, equally divided between office and stockroom.
In 1952 Jim Glover joined the company along with more additions to office and sales staff.
By 1954, most power plants were beginning to convert to oil representing a gradual end to the United Conveyor line, whose products were used primarily to move coal. Preston Phipps began to seek out new product lines with Keystone Valve of Houston, Texas becoming one of its major products.
In June 1961, Jos Paulin joined the firm as a salesman mainly to serve French Engineering Consultants & Contractors. In 1962, Don MacCandlish and Jim Glover became part owners of the company and sadly, in 1964, Fred Phipps passed away. In that same year, new offices were opened in Ottawa followed by an office in Dartmouth, Nova Scotia in 1967 and yet another in Quebec City in 1970.
In 1971, Jos Paulin became part owner of Preston Phipps. With expansion still underway, an office was opened in Toronto in 1972. On November 3rd, 1973 Dave Preston retired. Several changes took place that year: Don MacCandlish was named President, Jim Glover became Secretary-Treasurer and Jos Paulin was appointed to Vice President.   By 1981, three more partners were added to the directorship and an office was opened in Sarnia, Ontario.
By 1986, The company purchased a 40,000 square foot lot in the Ville Saint Laurent Technoparc and built a new state-of-the-art office and distribution centre complete with a modern training facility for steam and flow applications. Preston Phipps' training facility was the first of its kind in North America and was put in place to help educate the industry and to share the knowledge gained over its history.
The 1990s brought about changes to Preston Phipps' management as a new Executive Committee was formed. Jos Paulin, became President, with Mark J. Paulin as Vice President of Finance & Operations, Rino Forgione assumed the role of Vice President, Administration & Engineering, and Richard Cyr undertook the roll of Vice President Sales & Marketing.
This era also marked an important introduction of several new product lines, including Phoenix Controls. Phoenix Controls manufacturers a line of critical airflow products for laboratory applications. Remaining true to its original roots in ventilation, this association instantly brought Preston Phipps into the forefront as a key supplier of laboratory ventilation systems. To complement this relationship, Preston Phipps also became the exclusive distributor for Strobic Air, a leading manufacturer of air flow solutions for the BioPharm and Institutional market.
In 1997, Preston Phipps entered into a whole new industry segment with the launch of a subsidiary called Armserv Inc. In partnership with Armstrong International, Armserv was created to offer industry with a comprehensive array of professional services relating to Energy Solutions Management. Armserv specializes in exclusive steam analysis, technical design development and implementation of optimization processes. From boiler room audits to steam systems and condensate recovery assessments, or compressed air system energy inspections, Armserv and Preston Phipps have become a leading technical reference for industries and institutions across Canada. Armserv's leadership is driven by Sylvain Lewis as its President and has seen its sales triple over the last 2 years alone.
4th Generation Leadership
In 2004, the company's largest and most ambitious expansion occurred: with the trust of Armstrong, the company expanded into western Canada creating growth opportunities for key individuals, opening offices in Calgary and Edmonton to take advantage of a booming Oil & Gas Industry, as well as an office in Vancouver to cover the large Institutional, Pulp & Paper, and Mining markets.
The expansion proved very successful as within 3 years, the west represented close to 30% of total revenues.
The resources and knowledge accumulated over the years lead the new management team to expand our offering. Customers within the Oil & Gas Industries requested Preston Phipps to partner with them to help solve steam and condensate issues, as well as Steam Tracing and Utility services reviews. This lead to the creation of our Energy Services division providing full Optimization projects as well as Packaged Solutions for Industrial Engineering skids.
On the commercial side, Preston Phipps developed their own Building Heating solution name branded the CompackHeat, as well as our own Steam-to-Steam Generator name Branded the ClearSteam.
The successes of these products lead to Preston Phipps purchasing a new building next to our head office, providing a total of over 50,000sq.ft. Our newest facility acts as our Production Facility where our own units are built and a team of engineers, drafts people, welders provide our sales team with the ability to build custom commercial skids with flexibility and our customers' needs in mind.
Recognizing the importance of Quality, in 2014, our shop was certified CSA B51 allowing us to build skids with ASME recognized pressure welding and pressure piping procedures and meeting CRN requirements for the Canadian market.
Today, Preston Phipps has grown to over 100 employees, with 11 offices Coast to Coast, a proud Canadian, family owned company well into its 4th generation!
We continue to invest considerably in information systems and technology to improve business and distribution management as well as customer service.
The company's corporate values are dependability, integrity, knowledge, professionalism and thoroughness. After over 80 years as a leader in its industry, Preston Phipps remains faithful to the core business as established by the original founders in 1933. Our dedication towards training and the advancement of steam industry knowledge also remains a focal point having trained over 10,000 industry professionals.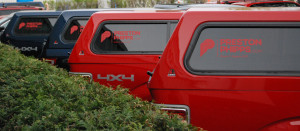 We have remained true to our specialized niche despite having evolved tremendously since 1933, and we are as motivated as ever to continue to exceed customer and supplier expectations while providing growth opportunities for our Valued Employees!